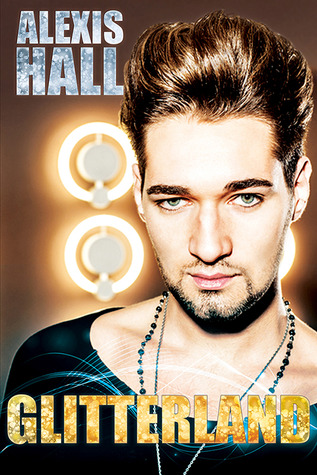 Title:
Glitterland
Author:
Alexis Hall
Release date:
August 24, 2013
Publisher:
Riptide Publishing
Genre:
LGBT, Romance
Buy on:
Amazon
|
Book Depository
|
B&N
Goodreads
The universe is a glitterball I hold in the palm of my hand.

Once the golden boy of the English literary scene, now a clinically depressed writer of pulp crime fiction, Ash Winters has given up on love, hope, happiness, and—most of all—himself. He lives his life between the cycles of his illness, haunted by the ghosts of other people's expectations.

Then a chance encounter at a stag party throws him into the arms of Essex boy Darian Taylor, an aspiring model who lives in a world of hair gel, fake tans, and fashion shows. By his own admission, Darian isn't the crispest lettuce in the fridge, but he cooks a mean cottage pie and makes Ash laugh, reminding him of what it's like to step beyond the boundaries of anxiety.

But Ash has been living in his own shadow for so long that he can't see past the glitter to the light. Can a man who doesn't trust himself ever trust in happiness? And how can a man who doesn't believe in happiness ever fight for his own?
The story is about A.A. Winters (Ash) and Essex (Darian). The two are total complete opposites and somehow they are the most adorable couple ever. Ash is a writer who had a manic breakdown and ever since things have seem to gown downhill. He has pretty much given up on life and locks himself up in his house. The one time he actually does go out he meets Darian. Darian trying to become a proper model. When Ash sees him for the first time he can't take his eyes off of him. And so there story starts.
Ash tries his best to hide his illness from Darian and actually succeeds for the most part. He goes to the supermarket for him, makes a salad for him (something he has never done) and all that with his anxiety. He actually overcame things because of Darian, just because he wants to make him happy. And those are just some examples.
Darian is a guy from Essex and throughout the whole book his speech is written in a way you can't get past it. The thing about that is though, is that it can get on your nerves. I read the book in two sittings and at the end of both I was kind of getting tired of it. And because of his speech, I kept hearing Russell Brand and I am still not sure if that's a good thing or not. (it just felt weird having Russell Brand in my head). Darian and his friends are definitely all 100% Essex. I've seen some shows about Essex people and I couldn't stand them, but this book made me change my mind about that a bit.
This story also has some drama parts and it actually brought tears to my eyes, so that really is a job well done. I feel like the progress Ash has made through the story is amazing and he has made some major improvements (I'm so proud of him). And his mental illness felt so real to me. I loved it.